Stay Connected and Check Us Out on Facebook Live!
We believe that to be Christian is to follow Jesus in all that we say and do. Everyone is welcome at our Church and at the Lord's Table as we move to answer God's call. Being actively involved in our community is core to our values as Church.
HOW WE SERVE BEYOND OUR WALLS
Community Table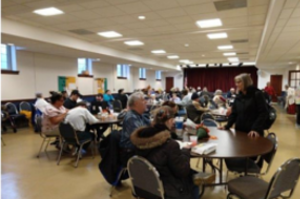 In 2005, First Christian Church began serving a free dinner on Monday evenings to anyone wishing to partake. Each week, we welcome community guests into our spacious fellowship hall for a prayer of thanksgiving, hot meal, and dessert. Companionship and conversation are abundant during this time of sharing; we now welcome over 100 men, women, and children each Monday.
Haven Youth Center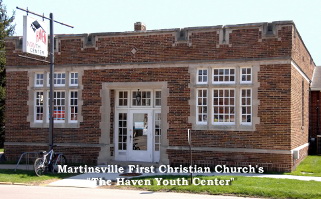 In 1998, The Haven Youth Center was founded as a community-based not-for-profit organization serving middle school students. It is located in our building at 39 East Jackson Street, behind Disciple House. The Haven Youth Center is to provide students in grades 5 through 8 a safe place to come after school to hang out with friends, to visit, to play games, eat, study, learn new life skills and do community service projects.
Kairos Prison Ministry
Kairos Prison Ministry mission is to share the transforming love and forgiveness of Jesus Christ to impact the hearts and lives of incarcerated men, women, and youth, as well as their families, to become loving and productive citizens of their communities. Kairos takes teams into prisons for weekend "retreats" and follow-up meetings. FCC also provides hundreds of chocolate chip cookies, financial and prayer support.
And he took bread, gave thanks and broke it, and gave it to them, saying, "This is my body given for you; do this in remembrance of me." (Luke 22:19)
You have an invitation to the table, Come Join Us Today!
Monday, May 18th, FCC will be handing out bags of food in place of the Community Table meal that usually takes place in the Fellowship Hall. The line will begin down the alley between FCC and the Barbeque restaurant, will turn along the back of the church and exit onto Jackson Street. We will begin by serving walkers only from 5- 5:15 but we ask that those on foot or bicycle keep at least 6 ft. apart. At 5:15 those coming in vehicles can come through but must stay in the vehicle and open their trunk to receive the food. It is vital that we keep everyone including our volunteers safe. Everyone will need to practice the recommended physical distancing. FCC has been serving a Monday night meal for more than 17 years. Feeding our community is important to us.  It has been hard to keep our doors closed to the public these past weeks. We pray that these bags of food will help fill in the shelves of those who find their pantry shelves are lacking. We will hand out the bags until they are gone or until 6:30, whichever comes first. Our plan is to share food every two weeks until we can safely open up for a sit-down meal again.
Discover How You Can Get Involved In Our Church
Christian Education
We offer four Sunday School classes for adults that meet from 9:40–10:40 a.m. between the traditional and blended worship services.
Children & Youth
Our goal is for our children and youth to find joy in being together as they praise God, and come to understand their faith. We offer a variety of programs for all ages, including Sunday School classes, Children Worship and Wonder service, Vacation Bible School, and Youth Group.
If you are seeking Christ, or are looking for a Church to call home we have an open seat waiting for you. Become part of our Church family and discover how God can help you find answers to your life questions.
Traditional Worship—Sunday, 8:30 a.m.
Blended Worship—Sunday, 10:45 a.m.
Sunday School—9:40 a.m.